Grab my button!
Review requests currently closed
Our review request pile is currently closer to a mountain, and we're kind of afraid it's going to fall on our heads and bury us all in a massive book avalanche. Until we can get through the majority of the TBR list we have right now, we at MKR are currently unable to accept any new review requests. But please keep us in mind in the future!
Now booking blog tours
Are you in search of the next stop for your blog tour? Look no further! MKR is currently booking spots for spotlights, author interviews, excerpts, guest posts, Music Monday, and Feel Good Friday. If you are interested in booking a spot here on MKR, please contact
MamaKitty
or
MamaJo
. **we are currently unable to accept review requests for blog tour stops**
(A Shelby Nichols Adventure #6)
Running "errands" for her mob-boss employer, Joey "The Knife" Manetto, often ends with Shelby in trouble, making her cautious about continuing her association with him. Instead, she focuses on a new client who hires Shelby to find her missing mother. What seems like a routine case turns into something more sinister and deadly than she ever imagined. In the meantime, Uncle Joey has summoned Shelby to his office, where she runs into her former nemesis. Shelby inadvertently hears something that makes her fear for the lives of Uncle Joey and his hit-man, Ramos. This time, Uncle Joey is not sure he wants to involve Shelby in something he knows could get her killed. Keeping Shelby's involvement to a minimum has disastrous results, sending Shelby on a dangerous path. As her investigation unfolds, Shelby finds death at every turn, and soon realizes she is in over her head. Can she escape from danger in time? Or will she find herself deep in death?
Available for purchase at
"I'm investigating a missing person's report." I pulled out
my file and opened it up.
"Her name's Darcy Shaw, and she went missing about
six years ago. Do you think I could look at your files and see if there's
anything I could use?"
Dimples frowned. "From that long ago, it's probably
downstairs in the dead files room. Come on, I'll show you where they are."
"Thanks."
I followed him to the hall and down two flights of stairs to
the basement. He opened the door to a room and flipped on the light.
Wall-to-wall filing cabinets filled the room, and a stale, musty odor permeated
the air. From the smell, I'd guess no one had come down here in a long time,
kind of how I imagined it would smell visiting a mausoleum. It seemed colder
than normal too, and I realized that all of the files belonged to real people
who had disappeared and were probably dead, and no one knew why or how.
"Go ahead and take a look," Dimples said. "They're filed
alphabetically."
"Um…yeah, okay." I hesitated, not wanting to venture further
into the room. It was so cold and dank that it kind of gave me the creeps. But
I only needed one file.
That wouldn't take long.
"When you're done, come on back up and I'll fill you in on a
case I could use your help with." Dimples was thinking he was anxious to leave
me to it, not because he had a lot to do upstairs, but because the room had
kind of a weird vibe that he didn't like.
"You're leaving me here alone?" I blurted.
"What? You're not scared are you?" He scoffed. "It's just a
room with files in it.
There aren't even any guns or crazy killers down here."
"Oh fine," I said, still hesitating in the doorway and
wishing I hadn't heard that part about the weird vibe.
"You want me to stay?" He folded his arms and raised his
brow in challenge.
"Of course not," I said. "Like you said, I'll be fine."
"Good. Hey…if one of those files attacks you…I'm right
up-stairs if you need me."
"Ha, ha."
He chuckled and left. I shook my head and hurried over to
the cabinets. As I found the cabinet with "S through T" on it, the door clicked
shut behind Dimples, sealing me in. It was deathly quiet. The only sounds in
the room came from me. My breathing and the shift of my feet echoed from the
walls, magnifying each tiny breath and movement I made.
An unexplained sense of urgency rolled over me. I was alone
in an enclosed space that seemed to get smaller the longer I stood there. A sudden
stab of dread tightened my stomach, and my hands shook a little. It was mostly
thoughts of the lights going out and leaving me in total darkness that did it.
If Bates knew I was here, I wouldn't put it past him to do that to me, and I
wanted out of this creepy place as fast as I could.
With renewed effort, I scanned the labels until I came to
the right drawer and yanked it open. I quickly leafed through the folders and
caught my breath to actually find the file. I swallowed with relief and pulled
the bulky file out. Pursing my lips together, I set it on top of the other
folders and opened it up checking to make sure it was the right one.
A larger version of the same picture I'd received from
Tiffany stared back at me. Her eyes held a haunting mixture of sadness and
foreboding, and goose bumps broke out along my arms. A sudden chill ran up my
spine and my heart picked up speed. All at once, it felt like I wasn't alone,
and someone was standing right there beside me. I froze. I didn't believe in
ghosts, but I didn't dare look either.
My mouth went dry and I hardly dared to take a breath.
Glancing back down at the picture, I felt something cold and feather-like brush
against my cheek. I inhaled sharply. It came a second time and I jerked my face
away, hunching my shoulders to my neck with fear. "I…I'll try and find out what
happened to you," I croaked. The chill intensified, then suddenly fell away in
a cool breeze, leaving the scent of flowers behind, which I recognized as the
distinct smell of gardenias.
With my heart racing, I grabbed the file and slammed the
drawer shut, then raced out of the room as fast as I could. In my haste, I left
the light on, but I was too scared to go back and turn it off. The smell of
gardenias stayed with me all the way up the stairs, but disappeared as I
entered the office. With my chest heaving, I hurried over to Dimples' desk and
sat down, rubbing my cold arms.
 A long career as a wife and mother while juggling several part-time jobs gave Colleen the ambition to dream of being a published author, where she could put her imagination to good use. Now instead of making up stories to tell her children, she writes books they love to read. Hopefully you will too. She is the author of three romantic fantasy novels, Songbird, Flame of Destiny and The Relic. Her Shelby Nichols Adventures include Carrots, Fast Money, Lie or Die, Secrets That Kill, and Trapped By Revenge coming soon!
You can find Colleen here:
Presented By
MamaKitty is a mother to a beautiful little girl, wife to her own real life hero, a registered radiographic technologist, student, book reviewer, and author of contemporary romance (as Paige Prince). She hates to be bored, loves a good book, and can usually be found on Twitter or Facebook.
More Posts - Website - Twitter - Facebook - Pinterest - YouTube
For just one night, Georgia Taylor wants to forget about her demanding job and the everyday struggles of being a single mom. Her track record with men is pitiful, but that's fine because her responsibilities don't leave room for love anyway. The new online dating site is perfect for what she's after.

But Georgia's plans are crushed when Brent Turner, aka Sexy Dad and father of her daughter's classmate, turns out to be her internet date, therefore, eliminating any possibility for a night without consequences.

All of Brent Turner's honorable intentions fly out the window when he sees highly strung "Super Mom" waiting for her date at the bar. Determined to win Georgia's trust and show her a good time, their no-strings evening promises to become so much more…until, that is, she discovers what he's really up to.

ebook, 77 pages

Published April 14th 2014 by Entangled: Indulgence
I loved the idea behind A Night of Misbehaving – online dating goes awry when they know each other through their kids' school. But the story was far too short to be believable. They had one date. They had great sex. But then she immediately finds out about the deception and flips out (understandably so). But she's stuck in his head and he pursues her until she gives in.
I just didn't feel like they had enough time to make a real enough connection for him to pursue her like that. But it was a cute and quick read.
Rating: 3 stars
MamaKitty is a mother to a beautiful little girl, wife to her own real life hero, a registered radiographic technologist, student, book reviewer, and author of contemporary romance (as Paige Prince). She hates to be bored, loves a good book, and can usually be found on Twitter or Facebook.
More Posts - Website - Twitter - Facebook - Pinterest - YouTube
The summer is getting hotter with four new releases from Scandalous this month. One is the latest Men of Fortune release, FALLING FOR THE PIRATE by Amber Lin, a tantalizing tale of a pirate's vengeance. The second is a regency romance, FOR HER SPY ONLY by Robin DeHart, which gives a delicious story of a jilted woman and a withdrawn Marquess. Third, is the second novel in The Worth Brothers series, LOVE'S JUSTICE by Joan Avery, featuring an independent heroine and the man who finds her fascinating. And fourth is TEMPTING HER RELUCTANT VISCOUNT by Catherine Hemmerling, part of the Lady Lancaster Garden Society series and a sizzling regency romance read. 
Posted in
books
|
Tagged
author: amber lin
,
author: catherine hemmerling
,
author: joan avery
,
author: robin dehart
,
book: falling for the pirate
,
book: for her spy only
,
book: love's justice
,
book: tempting her reluctant viscount
,
entangled publishing
,
entangled scandalous
,
release day blast
,
series: lady lancaster garden society
,
series: men of fortune
,
series: the worth brothers
|
Leave a comment
Published
18 July 2014
|
By
MamaJo
Please give a warm Mama Kitty Welcome to Carrie Ann Ryan!!!  Today she stops by to talk Heroes and Loving the Omega (A Redwood Pack Novel, book 7.5). There is also a tour wide giveaway, so be sure to follow the tour and enter
Heroes
When you read a romance novel you're guaranteed a few things. If it's a true romance, will get your happy ever after. You get a heroine you'll want to be or want to throw off a cliff—same with the hero. It really depends on my mood. *wink* You'll find yourself cheering up sometimes, and fanning your face at other times. You'll live the emotional roller coaster of having these two characters fall in love while the outside world may try to pull them apart. You'll gasp, clutch the side of your book or Kindle, sit on the edge of your seat suspense.
And if you're reading a good romance, you'll find a sexy hero. Sure, he may not be sexy on the outside, but he could be damn well sexy on the inside. Reading a romance novel is an escape, we know it. Look outside of the people around you, you know that not every heroine and hero is real life. You know that what we see in real life, may not be the perfect romance. And that's okay, that's why we dive into these worlds and find new people. Life isn't perfect, and neither are our heroes.
Sure they could have eight pack abs, that chiseled jaw, strong muscles, the eyes that twinkle or smolder. They could have that growly voice and that alpha male tendency to take over. But then they could be tortured, scarred, sweet, beta, an ass….
They could be anything.
And that's what makes him sexy. No matter how sexy he is on the outside, what we leave with after reading is how sexy he is on the inside. It's how he takes care of his heroine. She needs to know that yes he can protect her, but she needs to protect herself. And he needs to let it happen. He needs to know that she can be the one to protect him.
And he needs to be man enough to let it happen.
That's what makes a sexy hero. The duality of being that strong man who cares. So yes he could have the sexy build, the chiseled face, the smile that turns you weak, and the silky locks you want to tangle your fingers in (yes, I'm talking to you, my hero Maddox from Loving the Omega and Shattered Emotions), but if you didn't have the personality to back that up, he wouldn't be as sexy to me.
Maddox is a tortured hero. He has scars—emotionally and physically—and isn't what some would call sexy because of it. Ellie though sees through all that. He's been in the background waiting and fighting.
Now it's his turn.
So what do you think defines a sexy hero? Visit his looks or the way he acts smart or is it both. Or does it really matter?
Are you ready to hear more about Maddox and Ellie?

Maddox Jamenson almost lost his mate before he knew she existed, but his life is now exactly how he'd dreamed it. The war with the Centrals is over, and his family is healing one day at a time. Ellie is reveling in the simple perfection that is her life and family now, but that doesn't mean she can shed the self-doubts and concerns that come with being a new mother, mate, and Redwood.
When a disturbance in their quiet life threatens to ruin everything they've fought for, Maddox and Ellie will have to learn not only to rely on each other more than ever, but find within themselves the power to forgive.
Author's Note: This is a novella set after book 7 to give you a taste of Maddox and Ellie. It is best that you have already immersed yourselves in the Redwood Pack world, however even new readers will enjoy a glimpse of one of the Redwood's favorite couples.
http://carrieannryan.com/loving-the-omega/


Excerpt
Goddess, what idiots they'd been.
Communication was key in any relationship, and it was even more so for two lost souls who were too afraid to hurt not only each other but also the Pack that had loved and taken her in.
"Ellie mine, what are you thinking about so hard that I can feel your wolf pacing even in human form?" Maddox's hands brushed up her sides from her hips until he gently cupped her breasts. His hands bypassed her nipples though, and she arched into him, wanting more.
He pulled back after leaving a kiss on her neck then turned her in his arms. She reached up and ran a hand through his sandy blond hair. He had his mother's hair. Not that she could tell him that anymore, not when the sense of loss would supersede the past memories of what they once had been. "If you keep moaning that way, Ellie mine, then we'll be naked and sweaty when the Silvers come over to talk about their son."
Ellie let out a sigh and leaned her head on his shoulder. "As much as I like to be naked and sweaty with you, I guess you're right. The Silvers should be here any moment. I'd rather not scare them any more than they already are."
Maddox sighed. "So are you going to tell me what you were thinking about?"
Ellie shrugged. "I'm just thinking about the past, present, and future. You know, nothing too big."
Buy Links
Amazon: http://amzn.to/1nv8lZ8
Barnes & Noble: http://bit.ly/1wjwJxq
Kobo: http://bit.ly/1l6O7U0
iTunes:  http://bit.ly/1pdAuWq
USA Today Bestselling Author Carrie Ann Ryan never thought she'd be a writer. Not really. No, she loved math and science and even went on to graduate school in chemistry. Yes, she read as a kid and devoured teen fiction and Harry Potter, but it wasn't until someone handed her a romance book in her late teens that she realized that there was something out there just for her. When another author suggested she use the voices in her head for good and not evil, The Redwood Pack and all her other stories were born.
Carrie Ann is a bestselling author of over twenty novels and novellas and has so much more on her mind (and on her spreadsheets *grins*) that she isn't planning on giving up her dream anytime soon.
Get in touch with Carrie Ann Ryan!
Website: http://carrieannryan.com/
Blog: http://carrieannryan.com/blog/
Facebook, Author Page: https://www.facebook.com/CarrieAnnRyanAuthor
Facebook, Friend: https://www.facebook.com/carrieannryanwrites
Twitter: https://twitter.com/CarrieAnnRyan
Goodreads: http://www.goodreads.com/author/show/5360266.Carrie_Ann_Ryan
Pinterest: https://www.pinterest.com/carrieannryan/
Newsletter: http://carrieannryan.us4.list-manage1.com/subscribe?u=4fd27cc0d4abd9691ecaa236e&id=de39f7f897
Email: http://carrieannryan.com/contact-me/
This giveaway will be a Carrie Ann Ryan signed paperback and a $15 Amazon gift card
Thank you so much for stopping by today!
MamaJo is a working wife and mother of two that is rarely seen without a book in her hand. She started reading horror novels in elementary school and from there has read some of everything. Her favorite genres are horror, urban fantasy, paranormal romance, suspense, and romantic suspense. You will also catch her with a contemporary or historical romance at least once a month to "cleanse her reading palate".
More Posts - Website - Twitter - Facebook - Pinterest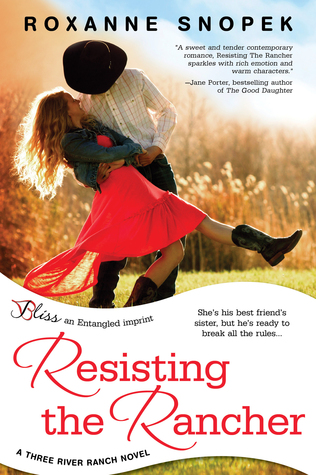 Country veterinarian Celia Gamble is in trouble. A misunderstanding from her past is rearing its ugly head and the only person she can turn to is Jonah Clarke—her family's lawyer and, as it turns out, her brother's best friend and her childhood crush. She always wanted Jonah to see her as a bona fide woman, but as a woman who's being blackmailed for seducing a married man? Not on her life.
Jonah is happy to help Little CeeCee Gamble, if only she'd come clean about why she's being blackmailed. But with his best friend Zach's wedding on the horizon, and Zach's fashionista fiancée Desiree giving CeeCee a makeover, the little duckling Jonah remembers is turning into a definite swan. And the unwritten law on sisters is clear—hands off. Jonah must resist or lose the only true family he's ever known.
ebook, 259 pages
Published April 14th 2014 by Entangled: Bliss (first published February 10th 2014)
original title: The Forbidden Rancher
I haven't read the other books in this series, but I wasn't lost for the most part on the characters and their back stories. Celia and Jonah have known each other their whole lives. She's the younger sister of his best friends (my favorite trope, by the way) and she's always been in love with him. But she's always tried to keep up with the boys and never really acted girly, so Jonah never saw her in that light. She went away to college to become a vet, she comes back and allows herself to be put in a dress for one of her brothers' weddings (in a previous book, I'm assuming). Jonah finally sees that she's a girl and starts having all of the feels – just one problem… He's terrified the family will hate him and her older brother will castrate him. So he ignores those feels. Until she comes back and sets up her practice. Suddenly he can't ignore her anymore because she's there all the time.
I had a hard time getting into this book. Mostly because it started so slow. Their first kiss wasn't until almost halfway through the book. But they were cute together and I liked that she realized that she had to be okay with herself before she could pursue a relationship with him.
Rating: 4 stars
MamaKitty is a mother to a beautiful little girl, wife to her own real life hero, a registered radiographic technologist, student, book reviewer, and author of contemporary romance (as Paige Prince). She hates to be bored, loves a good book, and can usually be found on Twitter or Facebook.
More Posts - Website - Twitter - Facebook - Pinterest - YouTube
Published
17 July 2014
|
By
MamaMia
Hello, world! Things have been heating up at Mama Kitty Reviews and at Electra Editorial Service, the company that I created with Mama Kitty to provide romance, young adult, and new adult authors with affordable, high-quality editing and proofreading services. Even though Mama Kitty and I have been mucho busy, we have been reading some amazing books lately. Here are three really awesome, five-meow New Adult books that I think everyone should read!
5 Meows all around! 
1.
Find You In The Dark by A. Meredith Walters
Print Length: 310 pages
Publisher: Gallery Books; Reprint edition (January 20, 2014)
Sold by: Simon and Schuster Digital Sales Inc
Maggie Young had the market on normal. Normal friends, normal parents, normal grades…normal life. Until him.
Clayton Reed was running from his past and an army of personal demons that threatened to take him down. He never thought he had a chance at happiness. Until her.
Maggie thought their love could overcome anything. Clay thought she was all he needed to fix his messy life. That together, they could face the world. But the darkness is always waiting. Sometimes the greatest obstacle to true love is within yourself.
 ***
You will not regret purchasing this book and its sequel. Walters tackles a tough topic—mental illness—and places it in the older-YA/NA world, all with backstabbing friendships, relationship drama, and the yawning unknown of leaving high school and everything familiar. The reader simultaneously wants to root for Maggie and Clayton, while at the same time, strongly suggesting that they run far, far away from each other. They're dynamic. They're dramatic. They're made for each other. In the end, this is such a beautiful story of love and hope—this story is real. It's a constant on my re-read list. It's just that good.
***
2.
Stupid Girl by Cindy Miles
Print Length: 333 pages
Publisher: TKA Distribution (May 13, 2014)
After her senior year of high school leaves behind nothing but heartache, Olivia Beaumont is sure of this: She's no stupid girl. She sets out for Winston College, promising herself that she will remain focused on her first and only love – astronomy. But all it takes is cocky sophomore Brax Jenkins and an accidental collision with a football, to throw her entire year off course.
A quick-tempered Southie who escaped the inner city streets of Boston to pitch for Winston, Brax is known to play way more fields than just the baseball diamond. So, when his name is drawn to take part in his fraternity's hazing dare, Brax eagerly accepts the mission to take Olivia's virginity. But he doesn't plan on falling hard for the sweet and sassy Texas girl who sees right through his bad-boy persona.
As Olivia and Brax battle their feelings for each other, echoes of the past year begin to surface. A boy who once turned Olivia's whole world upside down reappears, and "harmless" pranks wreak havoc. Pretty soon the aspiring astronomer is on the verge of revealing her most difficult, heartbreaking secret. All the while, Brax must wrestle with the irrevocable dare, and Olivia struggles against all logic as she does the one thing only a stupid girl would do: fall in love.
***
STUPID GIRL is probably one of my favorite NA's of the year so far. This book is set in Texas (an automatic win for me), and features sports (baseball—another win for me). The characters are well-developed and well-rounded; Miles coaxes the reader feel everything alongside these characters she's created. I simultaneously loved, hated, pitied, (and loved again) Brax Jenkins. I was drawn to Olivia Beaumont—her strength and vulnerability. This is a highly emotional, highly energized read. Fair warning: You will spend a sleepless night reading through the story. It's un-putdownable.
***
3.
Full Measures by Rebecca Yarros
Print Length: 237 pages
Publisher: Entangled: Embrace (February 10, 2014)
Sold by: Macmillan
She knew. That's why Mom hadn't opened the door. She knew he was dead.
Twenty years as an army brat and Ember Howard knew, too. The soldiers at the door meant her dad was never coming home. What she didn't know was how she would find the strength to singlehandedly care for her crumbling family when her mom falls apart.
Then Josh Walker enters her life. Hockey star, her new next-door neighbor, and not to mention the most delicious hands that insist on saving her over and over again. He has a way of erasing the pain with a single look, a single touch. As much as she wants to turn off her feelings and endure the heartache on her own, she can't deny their intense attraction.
Until Josh's secret shatters their world. And Ember must decide if he's worth the risk that comes with loving a man who could strip her bare.
***
I'm fairly certain that stock in Kleenex went up exponentially when I read this book. MamaKitty has also reviewed this book after I placed our friendship on the line if she didn't pick up a copy right then and there. She did. She cried, she loved, she read. Yarros creates a poignant, gut-wrenching story about two lovers who meet in the midst of near unspeakable tragedy. Everything about this story is well-developed—the plot and the characters. The sex scenes were hot and moving at the same time (a feat that not a lot of writers can successfully carry through). The love-making isn't there to be sexy, per se, but it is there to draw the characters closer and make the reader feel. And oh, I had all the feels. *sniffles* I want to know more about Ember, Josh, and the crazy world that they live in. Uglycrying from page one aside, this love story touched me—it's stuck with me for months after reading the final chapter. 
***
What totally touching books have you been reading lately? Let us know in the comments!
XO,
A recent college grad and lover of all things literary, MamaMia has been reading romance novels probably before it was appropriate for her to do so. She is addicted to her iPhone and all social media, and she is always on the prowl for good characters to fall in love with. She is currently on a contemporary romance kick, but is known to read about vampires, teens fighting bad guys, and Navy SEALs, to name a few.
More Posts - Website - Twitter
How would you win Endurance Island? Establish secret partnerships and turn on them at the last minute? Or build alliances and stay true to your word? 
I would love to think that I'd be a badass at Endurance Island, but the truth of the matter is…I am the WORST CAMPER EVER. I'm the girl that brings along the inflatable mattress and the battery powered fan and gripes about sunburn/sand/portapotties/bugs/you name it. I also don't do well with missing a meal (ahem). So really, I'd probably be better off playing something like HouseGuests (aka Big Brother) because they all get to hang out in an air conditioned house. Score!
But if I WAS in peak physical condition and not such a wimp? I'd totally be a sneak. I'd make alliances with everyone and then chop them down as they were no longer needed. CHOP CHOP CHOP. Plus, that'd be the best way to get all the good gossip, and sadly, I do love me some good gossip.
And more importantly: what would your luxury item be? (Personally, I think I'd bring bug spray)
God, yes. Bug spray! Or toilet paper. Barring either one of those, I've been watching a lot of survival shows, and the three handiest things you can have are a knife/machete, a firestarter of some kind, or a small camping pot to gather/cook/boil water.
So if me and my Charmin had to be parted, I guess I'd try to be practical. I guess.
Annabelle Tucker is still reeling from last season's Endurance Island, when the man she loved played her for a fool. When producers ask her back for a new season it's the last thing she's interested in…until she hears her ex, the gorgeous but duplicitous Kip, will be there. Revenge and a grand prize? Yes, please!

But someone's there to throw a kink into her plans. Someone tall and cut, and with the sexiest gray eyes. Jendan Abercrombie's on an opposing team, but it doesn't mean that Annabelle can't lust after him, right? She'll just have to save all that lusting for post-show, when she's free to follow where her loins lead.

When a tribal twist puts them both on the same team – naked – will Annabelle be able to resist his very apparent charms? Or will she have to vote Jendan out to save her game?

In The Series A Games Novel
About Jessica Clare:
Jessica Clare is a New York Times and USA Today Bestselling author who writes under three different names. As Jill Myles, she writes a little bit of everything, from sexy, comedic urban fantasy to zombie fairy tales. As Jessica Clare, she writes erotic contemporary romance.
She also has a third pen name (because why stop at two?). As Jessica Sims, she writes fun, sexy shifter paranormals. She lives in Texas with her husband, cats, and too many dust-bunnies. Jill spends her time writing, reading, writing, playing video games, and doing even more writing.
MamaKitty is a mother to a beautiful little girl, wife to her own real life hero, a registered radiographic technologist, student, book reviewer, and author of contemporary romance (as Paige Prince). She hates to be bored, loves a good book, and can usually be found on Twitter or Facebook.
More Posts - Website - Twitter - Facebook - Pinterest - YouTube
Playing it safe never felt so risky.

Erin Watters is her small town's resident wild child—she doesn't do boring, and after having her heart annihilated, she definitely doesn't do relationships. Her friends have other ideas, though, and when they throw down a matchmaking challenge, impulsive Erin can't ignore it. Even when the annoyingly hot Troy Strieber accepts the matchmaker role…

As a rescue paramedic, Troy's used to watching out for people. Never mind the bet he made with his buddy to play Erin's wingman. But the more time he spends with the sexy, charismatic woman, the more he discovers a side of her she doesn't let many see. Soon what started as an innocent game of matchmaking has them both thinking about the person right under their nose. But Troy's a play-it-safe guy, and he won't let a woman who lives for risk ever steal his heart.
What a cute book! I thought Troy and Erin were a perfect match for each other, even if they seemed to be polar opposites. She's the wild child and he's the steady safe guy that everyone in town loves. But they both have things in their pasts that keep them from seeking a relationship…until a bet in a bar shoves them together – with him playing matchmaker for her! I liked the fact that their reasons for avoiding relationships were real and not just something the author shoved into the storyline to make up a conflict. I'll definitely be checking out more by Ms. Bielman.
Rating: 4 stars
MamaKitty is a mother to a beautiful little girl, wife to her own real life hero, a registered radiographic technologist, student, book reviewer, and author of contemporary romance (as Paige Prince). She hates to be bored, loves a good book, and can usually be found on Twitter or Facebook.
More Posts - Website - Twitter - Facebook - Pinterest - YouTube
Theresa Chartley has no time for marriage, and no room for disappointment–especially with French soccer player Emile Renaud. Sure, he's gorgeous, but he's wrong for a career woman like Theresa. If only her mother would stop pressuring her to get married and let her live her own life. Finding a very unsuitable husband to shock her parents into silence and put an end to the marriage campaign is the only answer. Emile will do just fine.

Theresa's outrageous proposal is the answer to Emile's problem. They're complete opposites living in different worlds, but a fake marriage will let him ditch his clingy ex once and for all. Then he'll be free of commitment and free to live his life the way he wants to.

A contract. Twelve months. And they walk away Scott free. But a year of marriage tests them both in unimaginable ways. Maybe Emile isn't unsuitable after all, but how can Theresa let herself love him when she signed a contract to let him go?

ebook, 180 pages
Published April 28th 2014 by Entangled Publishing, LLC – Indulgence (first published April 21st 2014)
ISBN13: 9781622663255
This wasn't your typical book. It started out as a one night stand where she didn't even know his name. And it was HOT. But then her mom annoyed her yet again about setting her up with some widower with kids and she proposed. Literally. Emile and Theresa were great together. I loved that they were so opposite and how they bickered and fought but still managed to set my iPad on fire. What chemistry they had! What I didn't like was that she kept running away when things got too intense. What did she expect? They're married and they have intensely hot sex. Feelings are bound to get tangled up in there somewhere. Overall, it was a good book and I highly recommend it.
Rating: 4 stars
MamaKitty is a mother to a beautiful little girl, wife to her own real life hero, a registered radiographic technologist, student, book reviewer, and author of contemporary romance (as Paige Prince). She hates to be bored, loves a good book, and can usually be found on Twitter or Facebook.
More Posts - Website - Twitter - Facebook - Pinterest - YouTube
He's always wanted her. Now's his chance to claim what's his.

School teacher Marceline Bellini gave up everything—men, sex, anything resembling a social life—to raise her young daughter. To be the perfect parent. But when she attends an engagement party in her standard stick-in-the-mud mode, her friends begin plying Marcy with shots. Just enough to convince her that a little fun doesn't sound like a bad idea… and having some naughty fun is an even better one.

Like finding herself deliciously pressed against a dark alley wall by the very familiar and very hot body of her best friend's older brother.

After years of waiting in painful silence, police officer Aaron Robinson finally has Marcy's attention. And man, does he have it. But nothing could have prepared either of them for the rush of fiery lust between them. So he'll just have to convince Marcy he's for real. And that a rainy, lust-fuelled romp is the first step to a lifetime of completely imperfect happiness…

ebook, 100 pages

Published April 28th 2014 by Entangled: Brazen

ISBN: 1622665678 (ISBN13: 9781622665679)
I absolutely loved Aaron and Marcy together. This one doesn't start out traditionally – the novella opens up with them in a bar and stepping out to have hot hot smex in the rain against the back wall of the bar. *fans self* there's a lot of history between these two and they've been panting after each other for a long time, but circumstances have kept them apart.
Usually in books like these, it's the woman who decides to embrace her years long crush and go after the guy. In this one, it's the opposite. And I loved that! Aaron managed to be manly and vulnerable at the same time. Sexy.
Loved loved loved this one! Highly recommend.
MamaKitty is a mother to a beautiful little girl, wife to her own real life hero, a registered radiographic technologist, student, book reviewer, and author of contemporary romance (as Paige Prince). She hates to be bored, loves a good book, and can usually be found on Twitter or Facebook.
More Posts - Website - Twitter - Facebook - Pinterest - YouTube